Great American West
Booking Dates
04/02/2023 through 08/22/2024
Travel Dates
04/02/2023 through 08/25/2024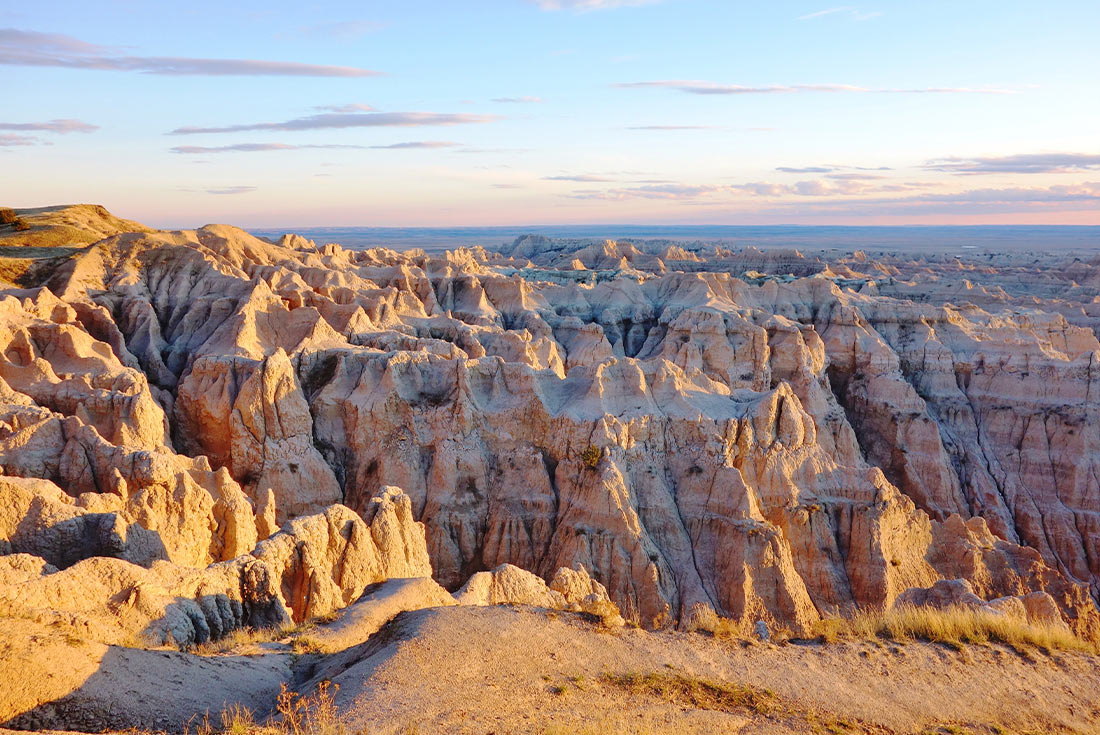 Great American West

See natural wonders in South Dakota, Wyoming and Montana on a 12-day small group adventure that packs plenty of National Parks into a short space of time. Uncover the beauty of Badlands National Park, before you travel to Mount Rushmore, spot buffalo in Custer State Park and continue to Little Bighorn Battlefield National Monument. With two nights at Yellowstone National Park, you'll have time to spot wildlife and watch Old Faithful spray water into the air. Then travel from Bozeman to Missoula via mountains, rivers, glaciers, and lakes. Learn about the customs and histories of the Blackfeet Native American culture and explore Glacier National Park on a vintage bus tour and a scenic river float trip. With easy to moderate walks, comfortable accommodation, and a knowledgeable leader, this nature-focussed adventure is big on beauty.

Activities
Badlands National Park – Hiking
Badlands National Park – Scenic Drive
Black Hills – Mount Rushmore
Custer State Park – Buffalo Safari
Little Bighorn Battlefield National Monument -guided tour with a Crow Nation Guide
Yellowstone National Park – Hiking
Bozeman – Lewis & Clark Caverns State Park Hike
Helena – Lewis and Clark River Cruise
Great Falls – Hikes with Blackfeet Nation guide
Glacier National Park – Full Day Vintage Bus Park Tour
Glacier National Park – Scenic Whitewater Rafting & Nature Walk with Lunch
Flathead Lake State Park – Hike
Highlights
Enjoy the changing landscape of Badlands National Park as you explore the scenic viewpoints and a backcountry trail.
Visit Little Bighorn Battlefield National Monument and join your Crow Nation Guide to learn about the history of the area.
Join an expert naturalist on a wolf tracking expedition at Yellowstone National Park.
Jump in a jeep with an expert guide to see buffalo up close and personal in Custer State Park along with pronghorns and elk.
Marvel at Mount Rushmore where a walk will take you up close to this famous mountain sculpture.
Hike Yellowstone National Park where grizzly bears, wolves and herds of buffalo and elk roam free.
Spend a day exploring the surrounds of Great Falls, learning about Native American history in First Peoples Buffalo Jump State Park, hiking in Giant Springs State Park and discovering artwork of the Old West.
Follow in the path of Lewis and Clark exploring the "Gates of the Mountains" on a river cruise along the Missouri River
Sit back and take in the views from a vintage open-top bus in Glacier National Park where you'll find wildflowers, rushing rivers, and mountains reflected in crystal clear lakes.
Take a scenic float on the serene middle fork of the Flathead River along Glacier's southern border.
| Day | Description | View All |
| --- | --- | --- |
| Day 1 | Rapid City | Details |
| Day 2 | Rapid City | Details |
| Day 3 | Sheridan | Details |
| Day 4 | West Yellowstone | Details |
| Day 5 | Yellowstone National Park | Details |
| Day 6 | Yellowstone Wolf Tracking / Bozeman | Details |
| Day 7 | Bozeman / Helena | Details |
| Day 8 | Helena/Great Falls | Details |
| Day 9 | Great Falls | Details |
| Day 10 | Glacier National Park | Details |
| Day 11 | Glacier National Park / Whitefish | Details |
| Day 12 | Missoula | Details |